OPEN FOR ENROLLMENT:
THE 2022/2023 Season
August 1st 2022 – June 23rd 2023
Our 2022-23 Season of classes will begin on August 1, 2022 and end on June 23, 2023. We offer membership programs for toddlers, kids, teens, and adults from 3-60+ years of age. Learn more about our memberships and our schedule below.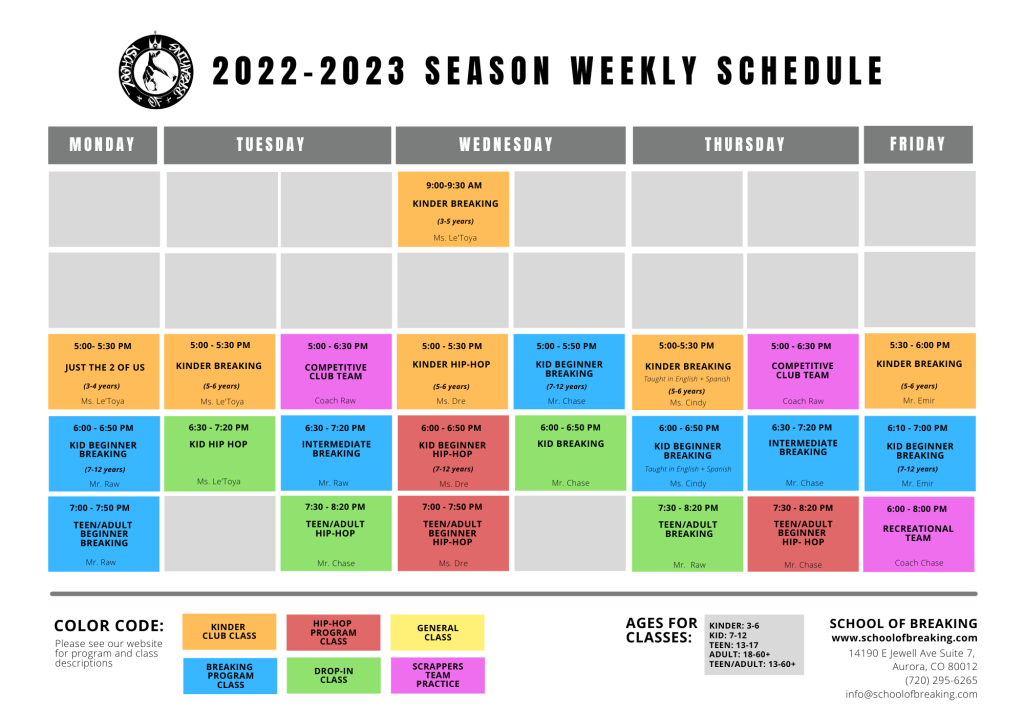 Annual Membership Options
Our 2022-23 Season will run from August 1st-June 23rd and we offer open enrollment until May of each season, giving students the option to join a class and begin a membership through that time. We use the last two months to prepare for our end-of-season recital.
Purchasing a membership provides your enrollment to only one class per week for the entire 2022-23 Season. For those looking to enroll in multiple classes for the season, a membership must be purchased for each class. Memberships can be applied to any Program, Club or General classes.
GET STARTED – Make your membership purchase for the day you'd like to start class(es) and we'll take care of the rest (class booking for the full season and automated monthly membership payments).*
*Membership commitments are for the entire season (August – June). Payments can be made in full or monthly.
The Breaking Program
Training-based education continuum that focuses on the five main components of Breaking: Top Rocks, Go Downs, Footwork, Power Moves and Freezes.
The Hip-Hop Program
Training-based education continuum that focuses on grooves, fundamentals, techniques, isolations, funk, street and social dances, while utilizing freestyle, and choreography.
Kinder Club
Our preparatory Breaking and Hip-Hop club provides an outlet to dance, have fun, take on challenges, explore movements, socialize and so much more.

General Classes
These classes represent the many styles of dance and movement that have connections to Hip-Hop, Breaking and the African Diaspora. They are intended for fun explorative movement and personal growth.

Kid, Teen & Adult Membership (7-60+ years)
$65/monthly (one 50-minute class per week)
$643.50 (11-months paid in Full with 10% discount)
Kinder Membership (3-6 years)
$45/monthly (one 30-minute class per week)
$445.50 (11-months paid in Full with 10% discount)
Drop-In Classes
For those who are looking to try a class before becoming a member or want to take classes casually, we also offer classes for Drop-Ins only.
Drop-In Classes (7-60+ years)
$18/class or $64.80 for Prepaid Package of 4 Classes (10% discount)
Can be purchased for 50-minute Drop-In Only classes
Have questions? Contact us so we can assist you.