Schedule & Memberships
Our 2020/2021 Season, which runs from August 3rd-June 25th, is a modified version of our regular schedule for Breaking, Hip Hop, and Junior Breaking Programs for toddlers, kids, teens, and adults from 3-60+ years of age. To meet the growing need for at-home learning, we are now offering both Online classes and Online Hybrid classes in addition to our regular In Studio classes. Learn more about these options in their class descriptions and discover our schedule below.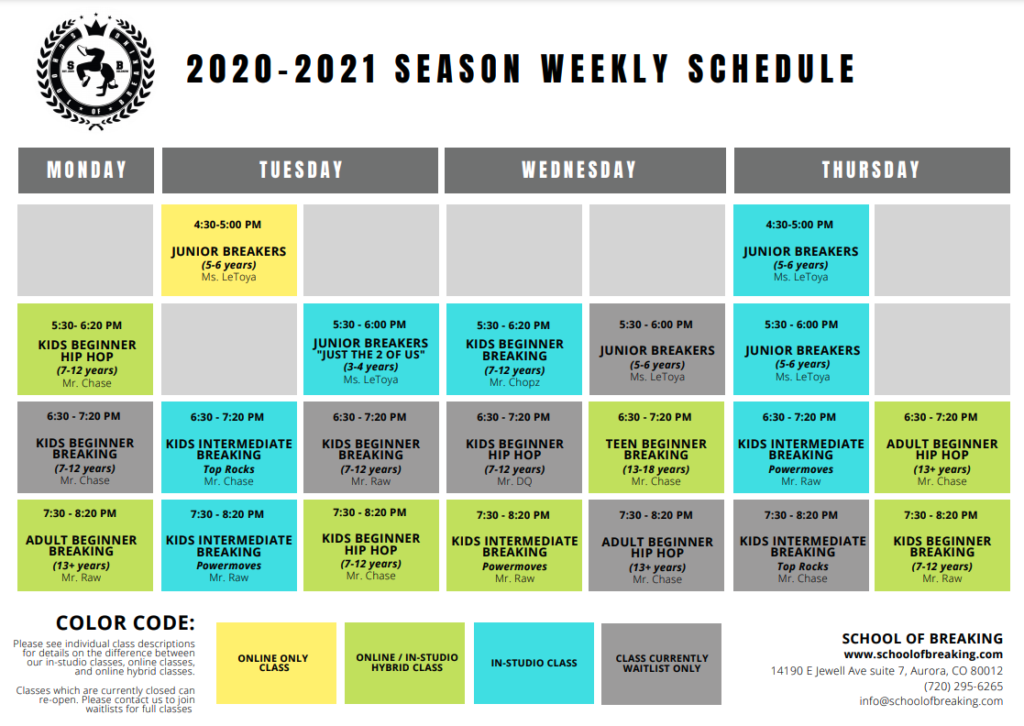 Have questions? Check out our FAQ or contact us so we can assist you. 
Membership Options: 
Our memberships allow you to enroll in a single class for the entire run of our season. Our season runs from August 3rd-June 25th and we offer open enrollment throughout the season, giving students the option to join a class and begin a membership at any time. Purchasing a membership provides your enrollment to only one class, for those looking to enroll in multiple classes for the season, a membership must be purchased for each class. For those who are looking to try a class before purchasing a membership, we also offer Drop-Ins.
Kids & Adults Membership (7-60+ years)
$50/monthly (1-hour of class per week)
$495 (11-months paid in Full with 10% discount)
Juniors Membership (3-6 years)
$40/monthly (one 30-minute class per week)
$396 (11-months paid in Full with 10% discount)
Drop-In Classes (3-60+ years)
$15
Can be purchased for any of our classes