Hip-Hop
Peer Leadership Program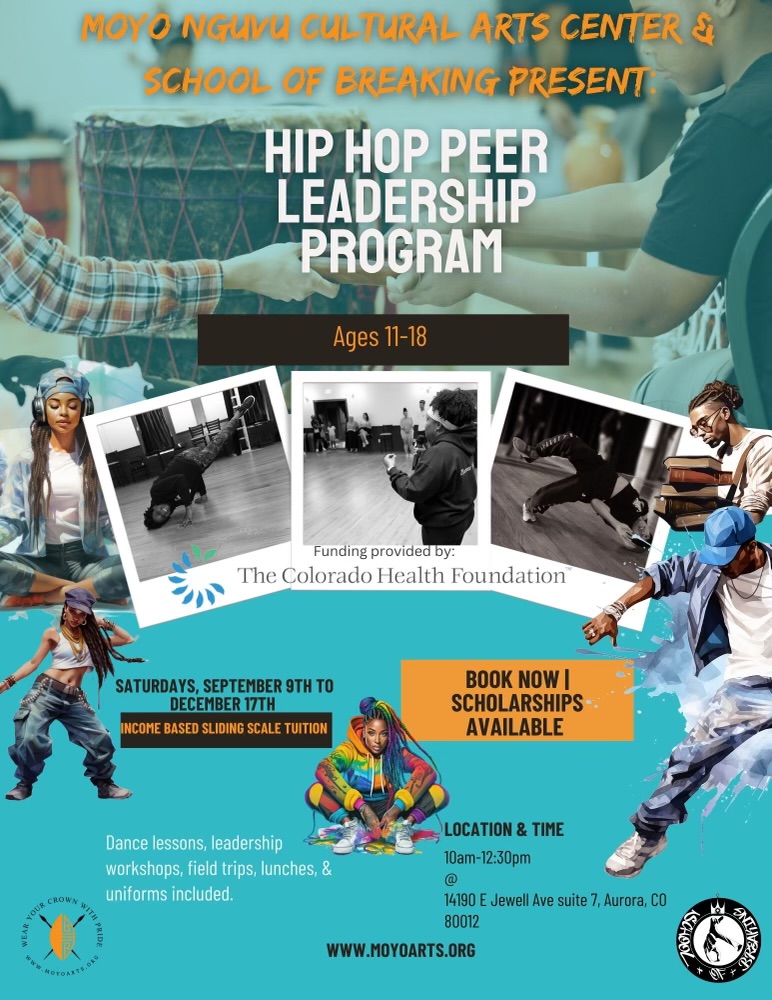 Hip-Hop Peer Leadership Program
The Hip-Hop Peer Leadership Program is a Rites of Passage experience for youth.
What is a Rites of Passage? 
A rites of passage is literally a structured assemblage of trials (classes and workshops) that are devised to empower the individual. 
Moyo is proud to be the first and only nationally recognized Rites of Passage & Peer leadership Program in the state of Colorado. The partnership with School of Breaking brings over 10-years of Hip-Hop and Dance education for youth (as recognized by the City of Aurora and Mayor Mike Coffman).
While Moyo's Cultural base is African-centered, the values and skills taught at Moyo are universal. In addition, Hip-Hop is an internationally recognized culture, inclusive of people from all races, religions, ethnicities and genders. Youth of all backgrounds will benefit from this program. 
Curriculum focuses on: 
– Artistic elements of Hip Hop (dance, music and art)
– Physical, Academic, Spiritual, Social and Creative development
Objective: 
– Holistic Spiritual enhancement 
– Development of healthier physical body 
– Maturation of self-discipline and mutual respect 
– Cultivated awareness of one's mind, body, and environment 
– Development of multifaceted understanding of music and dance 
– Feasible strategies for controlling stress. Hyperactivity, and negative thought patterns 
Youth will participate in weekly dance and leadership workshops followed by a catered lunch of various cuisine.
After successful completion of the curriculum, participants graduate and are acknowledged by their community and their families for achieving the next stage of mental, physical, and spiritual development.
Registration Information & Guidelines:
Youth ages 11-18
Program Length: September 9, 2023 – December 17, 2023
Day of the Week: Saturday
Times: 10:00am- 12:30pm
Start: September 9, 2023 (Orientation & Open House)
End: December 17, 2023  (Graduation)
Tuition & Scholarships:
Tuition is based on a sliding scale. We want as many youth as possible to participate in this program and do not want the cost of tuition to be a barrier. A consideration for a sliding scale payment could be $10 – $25 per week. The program is 13-weeks long (not including Orientation). If that is outside of your family budget, we are offering FULL SCHOLARSHIPS to any youth who want to be involved (you only need to complete a scholarship application).
Orientation:
We are asking families to RSVP to attend the Orientation Meeting & Open House on Saturday, September 9th (10:30 am – 12:00 pm) to learn more about this program and to register.
Please contact us with any questions about registration or financial assistance (info@schoolofbreaking.com or 720-295-6265).