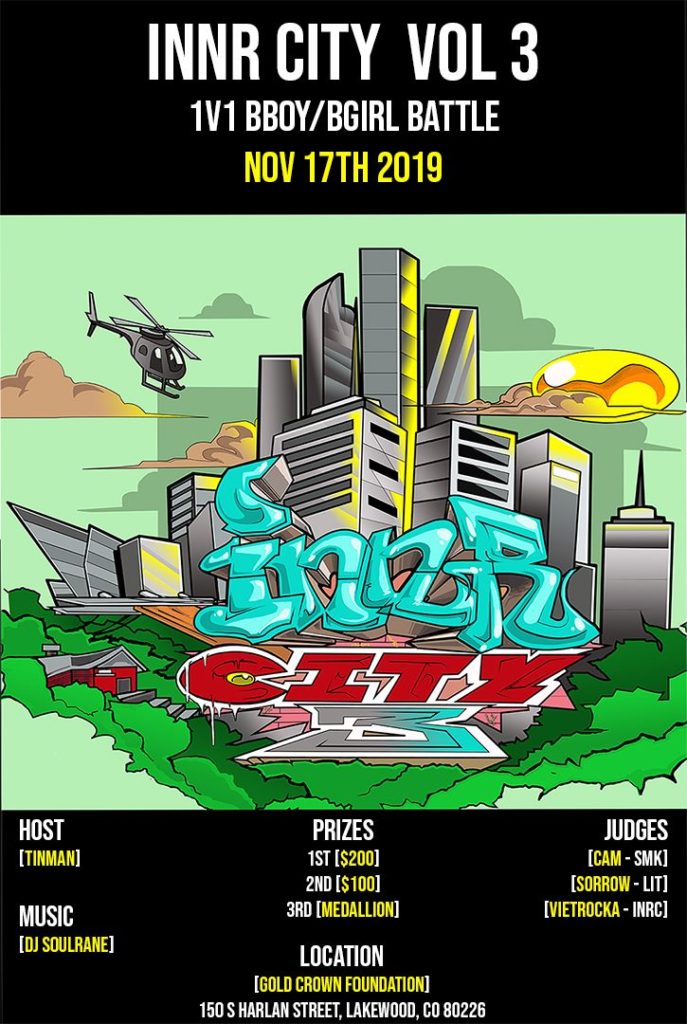 Denver Hip Hop Crew, InnR City has been throwing their annual Breakin' jam for the Colorado community going on 3 years. This year InnR City hosted a 1v1 bboy/bgirl Breakin' battle for all ages allowing the youth to battle against the adults and more seasoned dancers.
Founded in 2011, InnR City originated in D-Town that has now expanded into a diverse group of individuals who are now considered family. Dance is their source of freedom and outlet for expression. The crew consists of dancers and artists which include: Emerge, Malo, Monster, DVS, Short, Token, Joe, Viet Rocka, Tinz, DanVy, Marcos & Natalie.
InnR City – Vol 3 – 1v1 BBoy/Bgirl Battle was hosted by Thien Tao (BBoy Tinz) alongside Lars Sverre (DJ Soulrane). The Judges of the battle were Viet Rocka (InnerCity), Sorrow (LIT), and Cam (Soul Mechanics Krew). In-between battles & cypher was a refreshing performance by Queenz of Hip Hop dancers Elise Silva, DanVy Ngo and our very own LeToya Garland.
The Competition winners of the event were:
1st  $200 + medallion – BBoy Bowzer (The Freak Show Crew)
2nd  $100 + medallion – BBoy Chopz 
3rd  medallion – BBoy Terrific Terry (Amida Crew)
—Check out Amida Crew's Experience at the event— 
Each year this Colorado Hip Hop event is supported by the Gold Crown Foundation and provides space inside the Gold Crown Field House, which features 56,000 square feet of hardwood and has over 500,000 visitors annually. Founded by former Denver Nugget player and coach, Bill Hanzlik and his business partner Ray Baker, the Gold Crown Foundation provides opportunities for over 16,000 children annually. Gold Crown Foundation, preparing kids for the game of life.
Gold Crown Foundation
150 S Harlan St
Lakewood, CO 80226
FB Page @ https://www.facebook.com/GoldCrownCO