What is your full name?
Le'Toya Katrice Garland
How old are you?
39
When and Where were you born?
November 3, 1977
Vandenberg Air Force Base, Lompoc, California
What year did you begin dancing?
As long as I have been listening to music, I have been dancing.  Mostly social dancing; at home, parties or clubs. I will groove anywhere. I started learning technique and foundations of Hip Hop dance during the Summer of 2014.
What or who influenced you to start dancing?
I absolutely love listening to all kinds of music. The most natural thing is to dance when music moves you; with your head, your feet, your hands or whole body. I used to watch old musicals, dance movies or music videos and try to imitate the movements or choreography. Dance is a beautiful expression of any thought or mood.
What is your main style of dance?
As I continue to dance I will define my style. Grooving is probably what feels best and most natural right now. However, I am continuously learning about and training many styles of dance. I really enjoy breaking, house and popping. Those styles challenge me physically, mentally and emotionally. I hope to learn more dance styles like samba, salsa, bachata and swing. I believe there are elements in each style that lend themselves to creativity in dance.
What are your dance dreams?
To keep dancing until I take my last breath and to always be free in movement.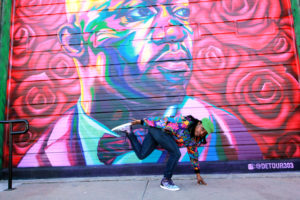 What goals have you accomplished in dance?
I did not have a list of goals when I started dancing. I have had progressions of desire. The first thing I ever wanted to do when I started to learn breaking was to dance in a cypher. I was excited to be in a cypher within months of me learning how to break. Since then, I have travelled around the country to compete in jams. I've performed in flash mobs and on stage. I have met many inspiring and beautiful souls from all over the world.
What goals do you have in dance?
I hope to one day be a breaking beast! Breaking is a physically demanding and challenging art form. It takes patience and persistence to even begin mastering movements. As I become stronger and more flexible I want to develop a more natural dance expression through breaking. I want to apply musicality with the creativity of footwork and power moves to truly express myself.
What obstacles have you overcome?
I have been and am living a good life. I experienced a period of time when I was not happy with the direction my life was headed (physically, emotionally and mentally). I wanted to experience more joy and get back to my authentic self. Dance helped me get reacquainted with my personal magic. Every day of dance has been an opportunity for me to dream, evaluate my desires (on and off the dance floor), become a more conscious being and take the best care of myself. I moved myself from an environment of toxicity to one of immense nourishment that has allowed me to grow in so many empowering ways. I have been reminded about belief in self and never giving up. Anything is possible.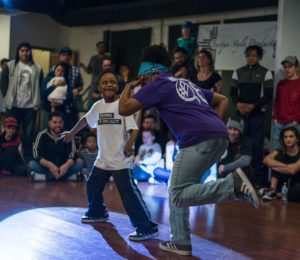 What has been your most difficult obstacle you've had to overcome in dance?
I started passionately training and dancing in my 30's. Many might be surprised by my age. I chuckle inside when I hear younger dancers comment about bboys/bgirls in their 30's and how they're "getting old". Many accomplished dancers have been dancing for decades at this point in their lives and might consider retiring their Adidas; I just bought my first pair. I remind myself often that the only limitations that exist for me are those I place on myself.  I do my best to ignore popular societal thoughts about what I should or can do and I am defining my own expectations.
Is there anything you are currently struggling with in dance or in life?
I don't like struggles. The word sometimes implies that the task is insurmountable. My only challenges are managing my love for dance and desire to train and grow with my responsibilities as an adult and mother. I have many other goals and dreams outside of dance that I work towards daily. I try to seize everyday so that I and my son can live a most extra-ordinary life together.
What has dance given to enrich your life?
Dance has given me life. It has taught me to always believe in myself and never give up on my dreams. I am capable of doing great things.
How do you perceive yourself as a dancer?
Each of us are unique and could define ourselves as being one of a kind. I truly feel like a unicorn. In most competitive or performance situations, I am the eldest with the least experience (not a typical combination). My lack of experience encourages me to be humble and vulnerable. To express my authentic self, I have to remove my mask and allow myself to be seen. I don't take a day or opportunity for granted because I want to take advantage of every moment I have now to dance; no waiting for a later that may never come. I am a sponge and appreciate opportunities to learn from and share with everyone.
What do you appreciate about your dance?
I appreciate the moments when I hear the music, have fun and allow my body to move without restriction or judgement. I am working on creating these moments more often and at will. I feel like those are the times when my dance is most authentic.
What has School of Breaking done to benefit your growth as a dancer?
School of Breaking was the place I was meant to start my dance journey. It actually began with my son taking class and me sitting in the lobby watching and waiting. When I expressed interest in dancing and exploring Colorado's Hip Hop culture Tommy and Chase were always encouraging. Anytime I wasn't quite sure I believed in myself, those two never told me "no". Looking back, I cannot believe they entertained the idea of me being a part of their resident dance team when I had less than a year of dance experience and only a few months of breaking under my belt (I could barely do a six step). They have created a welcoming environment where learning is promoted for every dancer at every level and at any age. Each of them has sewn seeds in my life that have helped me to be who I am today. I enjoy their passion for life, their families, business and their community. I may not tell them nearly enough but Tommy and Chase are two wonderful men that I appreciate greatly. They are helping to shape the lives of many people in more ways than just dance, competition and performing. They are influencing their community of students, teachers, dancers and families to be conscious and empowered humans who use dance to expand their growth, become better individuals and live fulfilled lives.
What are the next challenges you want to take on as a dancer?
Everything and we'll see how it goes. When I am asked "would you like to do this?" my first thought is "yes". I have one life to live, I should live it up in the best way possible. I am ready for anything!