BBoy Raw Skeleton
Full Name:
Jason Christen Toney
Age: 30
Year of Birth: 1986
Year Started Dancing: 1999
Influence to start dancing?
Raw Skeleton: Childhood friend introduced me to the BBoying/Hip Hop culture but my big brother was a big influence growing up, he was into a lot of underground hip hop and it rubbed on to me.
Main style of dance?
Raw Skeleton: I don't really have a main style I appreciate all styles of the dance. If you want to  label, i guess i would say power, flexy, blow ups, freak style flows and transitions. I like to experiment. I'm constantly changing trying to always evolve my style.
What are your dance dreams?
Raw Skeleton: My dance dreams. Right now I'm trying to get my own company off the ground. It's a reflection of my art. Entertainment, teaching, exhibition battles and judging. Working on creating a bboy brand for the culture. I plan on having my own establishment, to offer classes entertainment, workshops and have open practice. I want to continue to throw more events giving the culture and the youth more opportunities. My main focus right now is training my young soldiers, battling (competing) and doing shows as well as teaching giving back to the community. I have many dreams I can go on and on, I've lately been putting all my plans together making a list and checking things off one by one. The mind is a powerful thing, as much as I'm a bboy, I'm an artist constantly trying to achieve more and accomplish all in my path.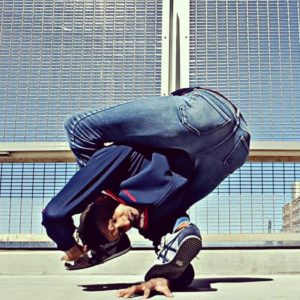 What goals have you accomplished in dance?
Raw Skeleton:  I've accomplished a lot with my dance. I've got the privilege to travel to countries I would only dream about as a kid, to do what I love. Express and live the bboy lifestyle explore other parts of the world and connect with like minded humans. It's been a humbling journey and a forever growth of oneself. I've performed with some high level artist on big stages, been on tours across the nation spreading peace, love, positive vibes, music, art, dance, and culture. I've been blessed to continue my practice, to give back and to still train everyday of my life. I've won international competitions as well as many statewide competitions. My crew and myself created a style that is very known all over the globe, innovating and creating is the mindset that has giving me many opportunities. I'm forever grateful and just try to pass in on to the next generation to come.
What goals do you have in dance?
Raw Skeleton:  One of my many goals as of now is to make my clothing Brand an established bboy brand for the scene I also want to throw more events to help our community and scene continue to grow.
What obstacles have you overcome?
Raw Skeleton: I've overcame many obstacles in my life. I would have to go back to when I was a kid for this one. Long story short I wasn't suppose to be here on earth. I was fighting for my life from birth, I got sick with the worst case of pneumonia that was suppose to end my life, on top of that I had a really bad hip infection. I fought through it and survived. I guess I was born to fight and overcome any obstacle in my way. I was also very badly abused as a kid by my step father. In his eyes it was making me tough, to be a man, but at 5 or 6 years old how could someone so little understand that. So getting beat was a majority of my childhood till my mom took me, my big bro, and little sis away and moved us to Denver. It's was very traumatizing as a kid growing up but I got through it mainly because of my mom she always held us down no matter what. Some things she had no control of or didn't even know but love got me through.
What has been your most difficult obstacle you've had to overcome in dance?
Raw Skeleton: My most difficult obstacle in dance? This is a good one, I would have to say being accepted, for a long time myself and my crew "The Freakshow" we had to fight constantly to get our respect in the culture to be considered part of this culture, super weird because we live a universal language. At the time though things were very different in the scene. No one had any direction of style or what was what. So we decided to do something different make and change far and beyond. So yeah I would say being excepting.
Is there anything you are currently struggling with in dance  or in life?  
Raw Skeleton: Currently struggling with understanding with my family I've been gone for the past 10 years. Living in San Diego traveling, Teaching building myself, my brand, and crew. My grandmother recently passed late Oct of last year and I witness her death. It really messed me up psychologically. I decided to help my mom and family and continue to follow my dreams. In the process it's been hard due to the fact we are all so different. I feel like an outcast buy I guess I make myself out to be that way. It's been getting better, so I just take it a day at a time. I do me and when I'm needed I'll always be there.
What has dance given to enrich your life?
Raw Skeleton: Dance has kept me healthy, active, it's kept me from a lot of destructive behavior. It's made me who I am today. Dance saved my life.
How do you perceive yourself as a dancer?
Raw Skeleton: I perceive myself as a visionary, always creating and seeking knowledge for growth.
What do you appreciate about your dance?
Raw Skeleton: I appreciate the many connections you make with other humans experiencing other cultures and ways of living. To wake up everyday and move, movement is life.
What has School of Breaking done to benefit your growth as a dancer?
Raw Skeleton: I can't be anymore thankful for school of breaking Chase, Tommy, and the rest of their staff have pushed me very hard these 6/7 months I've been back. The love and the positive energy I get from School of Breaking words can't even describe. I train there everyday twice a day pushing my limits they have built a home for many people. I don't think they get enough thanks for so much love, hard work, dedication they put into their studio and students. I've changed drastically they 6/7 months I've been back because of School of Breaking. So I say this thank you guys very much for everything you do. It's not easy and some may not recognize and the many that do what you guys do for the community is amazing, much love.
-Rawskeleton 👽
What are the next challenges you want to take on as a dancer?
Raw Skeleton: My next challenges is taking the next generation freaks international, getting all my soldiers ready for the big leagues. I want to win a big udef event this year as well. Just continue to give back a preserve our culture, and remain humble along the never ending ride.